GPS tracking has revolutionized the way construction companies manage their fleet of heavy equipment. With Rovitracker collecting real-time data on the location and performance of their equipment, companies can make informed decisions that lead to improved efficiency, reduced downtime, and lower costs. One of the most useful tools we use with GPS tracking is geofencing, which allows companies to create virtual boundaries around job sites and other areas where their equipment operates. With Rovitracker's platform we can help you see and manage it all. Today, we will talk about the benefits of geofencing and how Rovitracker utilizes it in the heavy equipment industry.
What is Geofencing?
Geofencing is a tool that allows GPS tracking to create virtual boundaries around specific locations. Can we do it? The answer is yes, yes we can. These boundaries can be customized to fit the needs of the user, and they can range in size from a few feet to several miles. When a GPS-enabled device, such as a heavy equipment machine, enters or exits a geofenced area, an alert is sent directly to the user in real-time.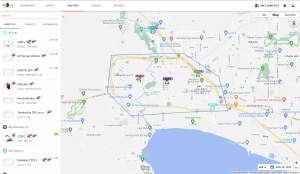 What are the benefits of Geofencing?
Improved Security: Geofencing allows companies to monitor the location of their equipment in real-time. This enables them to detect unauthorized use, theft, or vandalism and take immediate action to protect their assets.

Better Resource Allocation: With geofencing, companies can track the movement of their equipment and use that data to optimize their operations. For example, they can identify areas where equipment is not being used and relocate it to a more productive job site.

Increased Safety: Geofencing can also be used to ensure that your equipment is being operated safely. Companies can set up virtual boundaries around hazardous areas on the job site, and if equipment enters these areas, an alert can be sent to the operator or supervisor. 

Reduced Fuel Costs: Geofencing can be used to monitor fuel usage and identify areas where excessive fuel consumption is occurring. By reducing the idle time and creating routes, construction companies can save more on fuel costs and reduce their environmental impact.

Accurate Billing: Geofencing can also be used to track usage of equipment, helping companies accurately bill their clients based on actual usage. 
How our Geofencing works
Our geofencing technology relies on GPS tracking to determine the location of heavy equipment. Once a geofence has been set up around a specific area, our GPS data is used to detect when equipment enters or exits the area. This data is then uploaded to a cloud-based server, where it is processed and analyzed. If an alert is triggered, it is sent to the appropriate party via email or SMS.
Conclusion
With Rovitracker integrating geofencing we can help companies run smoother operations, reduce their costs, and improve safety. By using our GPS tracking and geofencing technology, companies can monitor the location and performance of their heavy equipment in real-time, allowing them to make informed decisions that lead to increased efficiency and productivity. As the industry continues to evolve, Rovitracker is creating an important tool for companies looking to stay ahead of the competition.