In the world of construction and heavy machinery, theft is an unfortunate reality that poses a substantial threat to both business owners and rental companies, potentially leading to significant financial losses. While the specific heavy equipment assets targeted by thieves may vary based on regional demand and other factors, there exists a consistent trio of valuable assets that remain prime targets for theft. Let's delve into the reasons behind their attractiveness to would-be criminals.
The average costs of heavy equipment can vary widely based on several factors, including the type of equipment, its age, brand, model, size, and additional features or attachments. With heavy equipment costing anywhere from $10,000 to $400,000 plus depending on what equipment you have, with even one of these assets stolen and not recovered, it will hurt your business.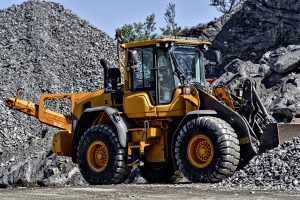 Compact Construction Equipment
Compact construction equipment, including skid-steer loaders, mini-excavators, and compact wheel loaders, is highly sought after by thieves. These machines are prized for several reasons:
Portability:

Their relatively compact size makes them easy to transport and maneuver, providing criminals with the ability to move and sell them quickly.
Versatility:

Compact equipment is incredibly versatile, with applications in construction, landscaping, agriculture, and more. This versatility ensures a steady demand on the black market.

Resale Value:

Stolen compact equipment can fetch a substantial profit due to their high market worth and the enduring demand for such machinery.
Heavy Construction Equipment
Encompassing larger and more imposing machinery like backhoes, excavators, bulldozers, and wheel loaders, stands as another prime target for theft. Its appeal to criminals rests upon several compelling factors:
High Intrinsic Value:

Heavy equipment assets have substantial price tags, making them attractive for thieves looking for a significant return on their criminal endeavors.
Ease of Use:

Many of these machines are relatively easy to operate, which means thieves with limited experience can quickly put them to use.
Multiple Applications:

The versatile nature of heavy construction equipment positions them for employment across various industries, from construction to excavation and roadwork, rendering them highly desirable targets.
Trailers and Trucks
In addition to the heavy equipment itself, trailers and trucks used for transporting machinery are common targets for theft. Thieves are drawn to these assets for several reasons:
Transport Efficiency:

Trailers and trucks provide an efficient means of moving stolen equipment. Criminals can readily hitch a trailer or load heavy machinery onto a truck, facilitating a swift and inconspicuous getaway.
Multiple Uses:

Stolen trailers and trucks find application in various pursuits, including the transportation of other pilfered equipment, goods, or even illicit contraband.

Resale Value:

These assets retain their value, making them appealing to thieves who may choose to resell them.
To mitigate the ever-present risk of theft, heavy equipment owners and rental companies are well-advised to implement stringent security measures. This encompasses investments in cutting-edge GPS tracking systems, advanced surveillance technology, secure storage facilities, and access control protocols. Moreover, education surrounding security protocols and the implementation of thorough background checks for potential renters can serve as powerful deterrents against theft.
In the unfortunate event of equipment theft, immediate reporting to local law enforcement and the utilization of online databases can substantially enhance the prospects of asset recovery. By vigilantly adhering to these precautions, we can collectively fortify our defenses and safeguard these valuable assets from falling into the wrong hands.