Remote work has become a norm for many businesses and individuals. Whether you are managing a fleet, overseeing valuable assets, or simply wanting to keep a sharp eye on your assets location. GPS tracking systems, devices and software have emerged as powerful tools to simplify remote work, making it simple for you. These technologies enable you to access your assets remotely, ensuring efficiency, security, and peace of mind. With remote monitoring solutions, you no longer need to be physically present on-site to oversee operations.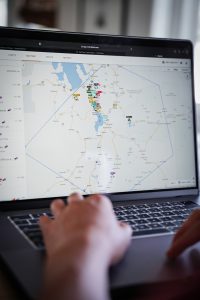 Streamlined Fleet Management
For businesses with mobile assets on the move, GPS tracking systems are invaluable. They provide real-time location data, allowing you to monitor the whereabouts of your entire fleet from the comfort of your office, home or even your smartphone. Here's how they simplify remote work:
Real-Time Tracking: GPS tracking devices seamlessly transmit real-time data regarding the location, speed, and route of your assets. This functionality is instrumental in ensuring assets are deployed to the right job sites promptly, monitoring equipment usage, and tracking stolen assets with precision.
Geofencing: Create virtual boundaries, known as geofences, to receive instant alerts when a vehicle enters or excites a specific area. This is useful for monitoring unauthorized use or ensuring your equipment stays within the designated zones. Geofencing is a powerful tool for monitoring unauthorized use or ensuring assets remain within designated zones, allowing you to maintain control remotely.
Maintenance Alerts: Many GPS tracking systems can also provide maintenance alerts, helping you schedule timely service and reduce vehicle downtime. With remote monitoring, you can always plan ahead when to service your equipment instead of losing time and manually checking.
Asset Protection and Recovery
Whether you're tracking valuable assets or renting out your equipment, GPS technology offers enhanced security with an anti-theft solution.
Asset Tracking: Installing GPS tracking devices on valuable assets, such as equipment, containers, or trailers, grants you access to a monitoring platform that significantly reduces the risk of theft, financial loss, and equipment downtime.
Theft Recovery: In the unfortunate event of theft, GPS tracking can help law enforcement locate and recover stolen assets quickly. Even if the thief has taken it across multiple states, with remote monitoring being simple as a click of a button, you can retrieve that piece of equipment without wasting too much time searching endlessly. 
Tracking Location and History: Tracking the location and history of your equipment, whether with clients or on job sites, has never been easier. The risk of losing equipment is minimized, and you can monitor its travel history efficiently, ensuring operations run smoothly, whether you're in the field or at the office.
Enhanced Asset Safety
With remote work simple, your assets safety is concerning, and ensuring your equipment is being operated appropriately is important:
Real-Time Alerts: Remote monitoring systems deliver real-time alerts for critical events, such as equipment malfunctions, accidents, maintenance requirements, or unauthorized use. This capability enables swift responses to potential safety hazards.
Emergency Situations: In emergency scenarios, remote monitoring can pinpoint the location of equipment and unauthorized users, facilitating quicker and more precise responses from rescue teams when necessary.
Optimized Equipment Usage: Remote monitoring empowers you to track the usage patterns of heavy equipment on one platform, enabling optimized maintenance schedules, reduced downtime, and the extension of equipment lifespan.
Choosing the Right GPS Tracking Solution
To streamline remote work effectively, selecting the right GPS tracking solution is imperative. Consider factors such as accuracy, battery life, real-time reporting, and ease of use when choosing tracking devices and software.
Investing in a reliable and user-friendly GPS tracking system can significantly enhance your remote work capabilities. Accessing all your equipment and assets from anywhere provides valuable data and peace of mind as you manage resources efficiently. GPS technology simplifies the complexities of remote work management. Embrace these solutions to make remote work simple, effective, and secure.