GPS tracking has evolved right in front of our eyes, from being able to track your mobile assets in remote, off grid areas, to being able to collect specific data from your asset such as engine run time, battery voltage, fuel level, etc. But what makes GPS tracking so special? How are companies able to manage all if not majority, of their fleet? That's where GPS tracking devices come into play. A GPS tracking device is small enough to fit in the palm of your hand yet it can be as powerful as collecting data remotely. Rovitracker has perfected integrating their software with their GPS devices allowing you to be able to remotely track and manage each individual asset. Giving you the tools to customize the data you want to collect to help your company be more efficient. 
Things you should look out for when purchasing or installing a GPS tracking device:
Form Factor:

The physical design and size of a GPS tracker come in all shapes and sizes, making it suitable for different applications.

Internal battery:

An internal battery ensures that the GPS tracking device can continue to operate when it's disconnected from the primary power source by anyone. Internal batteries can also store location data when the device is disconnected from power. This data can be retrieved and uploaded once the device is reconnected. 

Accuracy of Device:

Some GPS trackers offer high precision, depending on the device you might get more approximate locations. The level of accuracy can vary.

Wired vs self-powered:

Wired trackers are usually connected to a power source such as the vehicle's battery. With wired devices, they can provide continuous tracking as long as the vehicle or asset is in operation. Self powered devices have their own internal batteries, which means they can be used without a direct powersource. More portable than wired and battery life limits the tracking duration. 

Battery Life:

GPS trackers can have different battery lifes, this is crucial for asset tracking. Long lasting batteries are important for all assets in the industry whether that's having it sit on a jobsite, or on the move to multiple areas

Environmental Resistance:

Having a GPS tracker that is weather resistant allows you to have it in any job site, reducing the risk of having to buy another due to harsh environments. Especially in the heavy equipment industry, regardless if the device is hidden or not. 

Cost:

GPS tracking devices are going to come with a cost, however. With the data you can pull with specific devices, It's well worth the cost. Being able to tell fuel level, battery voltage, engine run time and many other specific data could prevent you from spending more in the future on your assets.
With Form Factor being the first item on our list. It's vital to understand that not all GPS tracking devices are the same size, nor will they have the same properties. Concealment is key, a device suitable for covert or discreet racking applications. In some cases, the size of a GPS tracker may impact how and where it can be installed. Smaller devices are often easier to attach discreetly to vehicles and assets. Keep this in mind when you are thinking of installing a device on one of your mobile assets.
Accuracy of a GPS tracking device is important, pinpointing the exact location of your asset is crucial in various scenarios. Whether it's tracking in the recovery of stolen assets or vehicles, or making sure that your assets are on the job site. For a business with valuable assets, accurate tracking ensures that assets are used efficiently and are where they should be. This can help prevent loss or theft and streamline asset management processes. Real-time data is the result of a device's accuracy, this means you can track where your asset is going and the status as it occurs. Making it essential for tracking valuable assets, ensuring safety, and making informed decisions.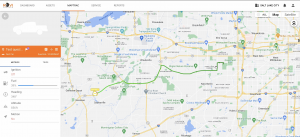 Perhaps the most obvious benefit is the ability to track an asset for an extended period without the need for frequent recharging or battery replacement. This is especially valuable for tracking applications where continuous monitoring over days or even weeks is required. A tracking device with a long battery life is more portable since it doesn't rely on a constant power source. With its own battery life, this device can remain hidden and active for an extended period of time without drawing attention to itself, acting as surveillance or an anti-theft protocol. Having a GPS tracking device with its own battery life can be essential if a potential thief cuts the main power source of an asset. Making it more reliable when tracking down someone who has stolen your asset.
Cost is a primary concern for most individuals and businesses. It's important to find a GPS tracking device that fits within your budget while still meeting your tracking needs. Consider not just the initial purchase price but also the total cost of ownership over the life of the device. This includes ongoing expenses such as data plan subscriptions, maintenance, and any required accessories. However, with that being said, purchasing these devices can save you time and money, whether that's scheduling for maintenance on an asset, or preventing a $30,000 dollar piece of equipment from being stolen resulting in a major financial loss. Keep in mind that inexpensive GPS tracking devices may come with a lower build quality and reliability. The cost of a device often correlates with its features and capabilities. 
When planning to install multiple tracking devices, the cost can add up quickly, however considering the compatibility and integration capabilities of higher quality devices, they most likely can integrate your existing systems or software, this will prevent you from running into situations where the device is not showing accurate data, upgrading to newer devices, or purchase newly updated ones. With high quality devices, this can set you apart from your competitors.
BLE trackers are pretty new in the industry, along with Apple's new air tags. Companies are putting these tags on everything. This is great if you want small, easy to install BLE trackers. The downside is when there are no Apple iphones near these tags, they will not show you any data. With these tags they are also not accurate, and not efficient for locating any of your tools or assets. The accuracy is not reliable when it comes down to it, again, inexpensive trackers result in numerous identifiable problems.
GPS tracking devices are not anything uncommon, especially to the rental and heavy equipment industry side of things. With these many variables to look at, this can help you further your decision on what GPS tracking device is the right fit. Choosing what can help your operation be more efficient, tracking fleets, collecting remote data, preventing equipment theft. Ultimately it's up to you and your business whether you want a GPS tracking solution or not. However it's never too late to stay ahead of the game, not having the right fit of GPS systems or tracking devices could be making your business suffer in increased downtime, increased cost of maintenance and increased risk of theft.