Heavy equipment machinery and mobile assets are valuable investments for businesses and individuals alike. Unfortunately, criminals are well aware of their worth and have developed techniques to steal these assets. In this blog, we'll explore some common criminal techniques used to target heavy equipment and mobile assets, and we'll discuss how GPS tracking devices and remote asset tracking can help prevent theft and protect your valuable resources.
Criminal Techniques: How Thieves Target Heavy Equipment and Mobile Assets
Unauthorized Use:
Criminals often exploit weak security protocols or impersonate authorized personnel to gain access to heavy equipment or assets. They can make off with your valuable machinery unnoticed.
Tampering and Vandalism: 
 Thieves resort to tampering with equipment, disabling alarms or GPS systems, and, at times, subject assets to vandalism to hinder their functionality. Inadequate security alerts can leave you vulnerable; it may be time to consider a more robust GPS tracking solution.
Transportation Theft: 
Criminals steal trailers, trucks, or containers along with the valuable cargo they carry. Always double check what you leave out before leaving your equipment. These thefts can result in substantial financial losses.
Chop Shops: 
 Thieves may opt to dismantle stolen equipment and sell its components separately. This not only makes recovery challenging but also diminishes the asset's overall value. This is difficult because if you manage to get some of it back, most likely other valuable parts will not be there.
Identity Theft: 
Criminals might use stolen identity documents to rent or lease equipment, leaving you to deal with the consequences. Always be sure of who it is you're contacting, and use GPS systems to remotely track activity.
Prevention with GPS Tracking Devices and Remote Asset Tracking
Now, let's talk about how GPS tracking devices and remote asset tracking can be effective tools for preventing these criminal techniques:
Real-Time Location Tracking: 
GPS tracking devices provide real-time location data, allowing you to monitor the whereabouts of your assets at all times. This feature proves invaluable for detecting unauthorized use and swiftly responding to potential theft.
Geofencing: 
Establish geofences or virtual boundaries around your assets or job sites. The moment your equipment enters or exits these defined zones without authorization, instant alerts are dispatched. Geofencing represents a robust deterrent against unauthorized movements.
GPS System Alerts: 
GPS tracking devices, when properly installed, can trigger alerts at the slightest sign of asset movement without permission. These alerts are instrumental in facilitating rapid responses and conflict resolution.
Remote Shutdown: 
Certain GPS tracking systems offer the capability to remotely immobilize equipment in the event of theft or unauthorized usage. This functionality can prove decisive in immobilizing the asset until recovery.
Historical Data: 
Access to historical tracking data allows you to review past movements and identify any unusual patterns, which can be valuable for theft detection.
Maintenance Alerts:
Many GPS tracking systems feature maintenance alerts, ensuring your equipment remains well-maintained and minimizing downtime. Well-maintained assets are inherently less attractive to thieves.
Asset Recovery:
In the unfortunate event of theft, GPS tracking devices significantly increase the chances of recovery by providing law enforcement with precise location information.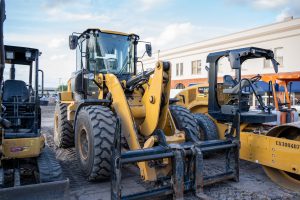 Additional Security Measures:
While GPS tracking is a powerful deterrent, it's important to complement it with other security measures:
Secure Storage: Store equipment in well-lit, fenced and locked areas when not in use
Employee Training: Train employees to follow security protocols, use identification badges, and report suspicious activity.
Security Cameras: Install security cameras at strategic locations to deter thieves and provide evidence in case of theft.
Regular Audits: Conduct regular audits of your assets and equipment to ensure everything is accounted for.
Criminals continuously evolve their techniques to pilfer heavy equipment and mobile assets. Nevertheless, with the implementation of GPS tracking devices and remote asset tracking, you can adopt proactive measures to safeguard your investments. These tools offer real-time monitoring, geofencing, motion sensors, and other features that not only deter theft but also facilitate asset recovery. By incorporating these technologies and complementing them with additional security measures, you can fortify your asset protection strategies and diminish the risk of theft significantly.